Weekend Warriors: Updating Your RV
by raveshowroom
on May 1, 2020
.

Camping and Alberta go together like peanut butter and jelly; we are surrounded by beautiful rec areas, have mountains to explore and lakes to enjoy. When you drive through our residential areas, you will see an abundance of campers and RVs in driveways- this is part of our identity, we are weekend warriors! Every Spring, we get an influx of calls from customers who want to replace their RV flooring or update their finishes, here are some tips of the trade for camper improvements.
The most common phone call we get before May long weekend, is "HELP! I opened up my camper and my lino was split wide open!" This is a common occurrence, it is partly due to our crazy temperature fluctuations, and partly due to the fact that the sheet vinyl is not full-spread glued during manufacturing. The vinyl is perimeter fastened, and the extreme cold/warm snaps that we have in the winter months cause the vinyl to shrink and expand rapidly causing the flooring to split. It is rare that these splits can be repaired because of the stretching that happens when they burst, the lino generally needs to be removed and new flooring installed.
What type of flooring should you replace your lino with?
Sheet vinyl or lino is always a safe and affordable bet, but it is not a real do-it-yourself friendly product to install. Don't be weary of putting the same type of flooring in that originally failed; when we install sheet vinyl, it is full spread glued in place. When the lino is fully fastened it is unlikely that you will ever have another problem with your floor. There are hardwood patterns, tile patterns, there are even some sheet vinyl products with minimal patterning or bold funky styles.
Luxury Vinyl Plank (or LVP) is another great option. LVP comes in a wide variety of styles; you can buy click floating product, glued-down and even loose-lay options. When it comes to LVP, we strongly recommend going with glue-down product in 2mm thickness. There are many thick 5mm options on the market, but they are so full of vinyl that they shrink and expand quite rapidly, causing gapping and peaking in the seams. Click options are easy for do-it-yourselfers, but there are several factors that can potentially cause issues. Quite often there is no room for extra thickness in the flooring (do you have a slide that comes in overtop of the area where you are installing the new flooring?) Also, click vinyl products require a gap around room perimeters to allow them to float- there are no baseboards in campers to hide this. It is difficult to complete a clean-looking click vinyl install without adding additional trim around cabinets and walls.
What about your cabinets?
The internet is full of blogs dedicated to camper renos, and one of the most common and dramatic quick fixes is painting the cabinets. You can drastically update your space by painting your cabinets and updating your countertops. Be sure to take time to properly prep and clean the cabinet faces, speak to your local paint experts about the best product to use for your application. As far as countertops go, there are lots of options out there! There are premade wood/butcherblock countertop options on the market, this works great if you have a straight run of cabinets and is very DIY friendly. You could stop by your local granite shop to inquire about quartz or granite for the space- come armed with measurements, there may be a remnant calling your name at a discounted price. You could price out a new laminate countertop, these usually come in premade lengths as well. I've also seen some incredible epoxy overlays, as well as tiled countertop transformations. Speaking of tile transformations, don't forget to add a tiled splash to your countertop for extra pizzazz!
What about the carpet areas?
Carpet can easily be replaced, but again, it is not the easiest DIY project. We recommend going with a hard-wearing, low-pile carpet that will stand up to the wear and tear that comes along with camping. Carpet replacement is relatively inexpensive, but you can save yourself some of the install costs by removing all non-fixed furniture from your camper and by removing existing carpet prior to bringing your trailer in for install. Sometimes you can find the perfect piece of remnant carpet for a bargain price.
Tired of the factory supplied curtains & bedspreads?
Most RVs come with upholstered valences over the windows, these are some of the quickest items to show their age… and to make your space feel out of date. In a lot of cases, you can order new upholstery weight fabric and glue/staple this directly over the factory valences for an instant rejuvenation. When it comes to bedding, I am a big fan of duvets with duvet covers. The best part about duvet covers is that they are easy to launder after a weekend of camping. There are tons of duvet cover sets on the market, or if you are thrifty, you can even make your own duvet cover by sewing two top sheets together and adding buttons or ties to one end. This is another instant refresh that shows your personality without breaking the bank. Extra bonus points if you add a snuggly throw to the end of the bed!
We love to see how people personalize their campers and RVs! It's a great way to inject your personality into your home away from home. Don't forget to add artwork and personal touches that will make you happy to be inside in the event of a soggy or snowy May long weekend.
Happy Camping!
Related Articles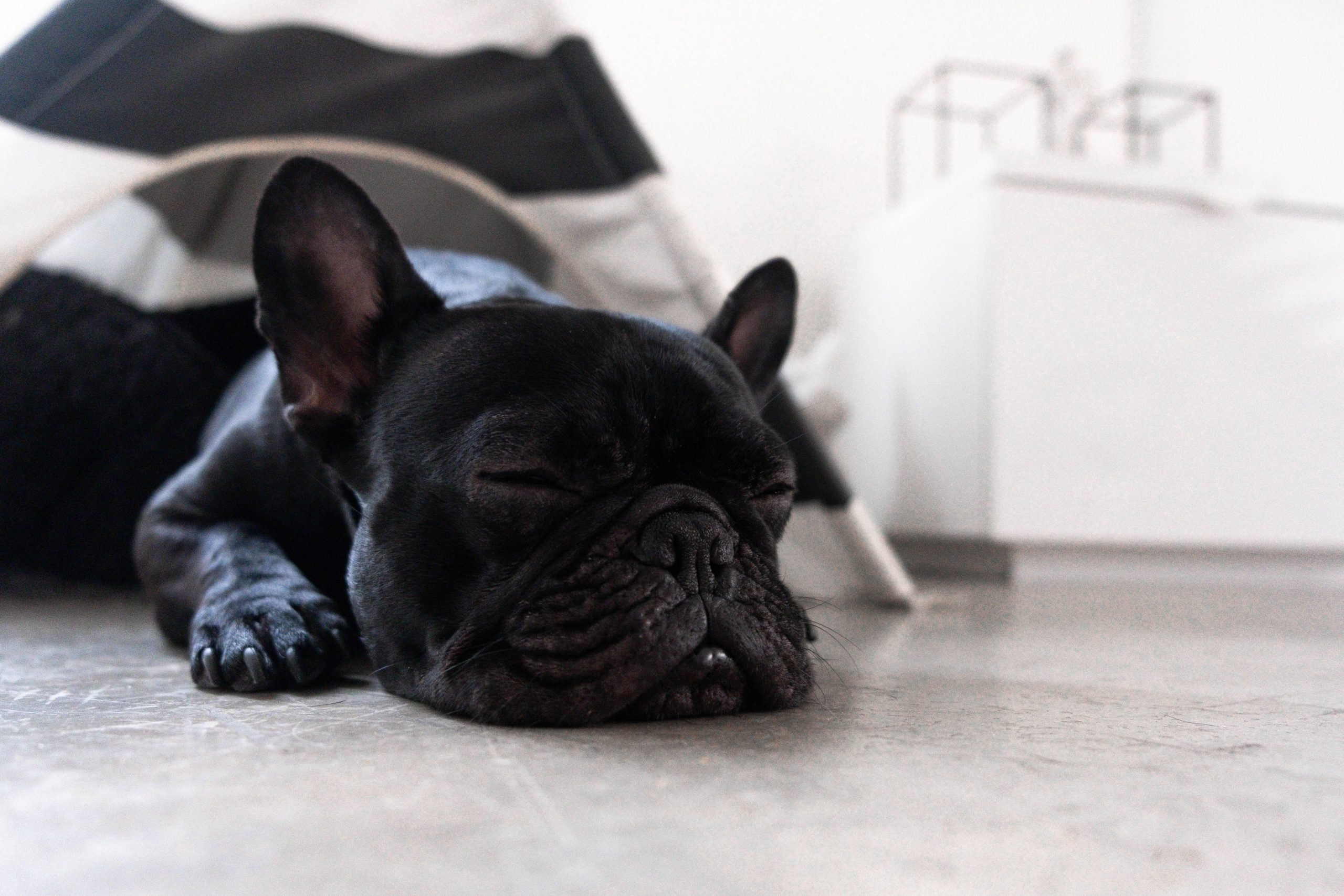 August 1, 2020
Pet Friendly Flooring Guide
They say that a house is not a home without a pet. Pets become beloved members of our family and we do all kinds of things for their happiness and well-being. Whether your pet is older, rambunctious, or an over-eager baby they can still cause damage around the home. They don't mean it, so we […]
July 1, 2020
Oh Canada: Our Top 5 Canadian Suppliers
It's July first, and that means that it's time to celebrate our beautiful country, the True North, Strong and Free. To commemorate Canada Day 2020, we are going to highlight some of our valued Canadian suppliers at the Rave Design Showroom. Vintage Prefinished Hardwood Flooring: Vintage is a Canadian hardwood manufacturing company that has been […]