Enjoy A Maintenance Free Summer!
by raveshowroom
on June 14, 2018
.

I don't know about you, but when summertime approaches, I can't wait to get outside to enjoy some fresh air! With that being said, I would far rather be enjoying a backyard barbeque with family & friends, then doing necessary yard maintenance. Check out these tips & tricks for some ideas on how to free up your time spent on outdoor chores, so you can maximize your outdoor enjoyment this summer.
EXPLORE LOW MAINTENANCE DECKING OPTIONS:
If sanding, scraping & staining your deck is not the way you would like to be spending your weekend, check out some of the low-to-no maintenance decking options on the market. Our choice decking solutions are vinyl sheet products that are specialized for outdoor installations. Sheet Vinyl Decking is a similar idea to linoleum for your interior- but designed specifically for outdoor spaces. It is a continuous vinyl surface, with added resistance to the elements. Similar to linoleum products, sheet vinyl decking comes in a wide array of interesting patterns & graphics and is seamed where the flooring drops meet.
Econodek & Tufdek:
Econodek is a variety of sheet vinyl decking that is available to DIYers & contractors that are looking for a waterproof membrane solution. Econodek comes in 6' wide rolls and is glued down with specialty adhesive to a plywood deck substrate, it is flashed up the exterior walls on your home to create a waterproof/rot-proof deck. Because it is a waterproof membrane, it is an ideal product for decks or balconies with patios or living space underneath.
If your idea is to snap your fingers & have your deck resurfaced while you relax, Tufdek might be the sheet vinyl decking product for you! Tufdek is a sister-product to Econodek that is only sold and installed through licensed dealers; we measure, install your plywood substrate & install the decking material, while you sit back and relax. Tufdek is a variety of sheet vinyl that stands out from it's competitors because it comes in a wider array of patterns; everything from aggregate-look, to wood plank style, to your standard speckled pattern. It comes with all of the benefits of Econodek, plus the added durability of a Scuff Guard patented coating (this makes it extra resistant to shoveling in the winter months).
Both Econodek & Tufdek have a full line of accessory pieces (flashing, drains, etc.) available to complete your installation.
The key to a proper deck installation that will remain maintenance free & beautiful, is slope. You will want to ensure that your deck slopes away from the house & is void of any dips that may cause pooling of water. Pooling of water can cause discoloration of your deck, and this can require scrubbing at dirt and debris where the water accumulates.
If you finish your deck off with a maintenance free aluminum or glass railing, you can swear off the staining & maintaining for years to come! The only maintenance required for the above-mentioned options is general cleaning- it's that easy!
SAY GOODBYE TO MOWING, WATERING & FERTILIZING WITH ARTIFICIAL TURF:
Just imagine it: lush, thick green turf, spongy with just the right amount of thatch, or a forever-green dog-run without those unsightly brown grass spots. Picture your yard as the envy of the neighborhood. Now imagine achieving all of that without having to dedicate evenings and weekends to yard work; sounds like a dream, but I have just described the benefits of artificial turf. Artificial turf has come leaps and bounds from what it once was- there are varieties of turf for every consumer out there. Artificial turf is at a higher price point than sod, but the beauty of it is that you no longer have to mow your lawn, water, fertilize, dethatch, or aerate your lawn. Your maintenance costs and routines are minimal, and the long run savings add up. Maintenance items are minimal with faux grass. For example, if you notice that your turf is not looking quite as perky as it initially was, you can add more infill sand & broom the surface to stand it up again. Use a leaf-blower to tidy-up in the fall, and in the spring when the snow melts, you will be greeted with a lush green lawn. Dog runs are easily maintained by picking up waste, spraying down if needed & treating with a PH-neutralizing spray to eliminate odors (should they occur).
We carry Xgrass brand products that have been developed & tested for extreme climates. Central Alberta can be categorized as an extreme climate with our bone chilling winters, but rest assured, there has been testing performed in extreme heat of Phoenix, AZ as well. Xgrass easily stands up to what Mother Nature will throw at it.
Here is a condensed outline of the steps required to create a perfect lawn:
Call before you dig to locate any potential buried hazards,
Prep your area by removing existing sod and ensure proper site grading,
Install a base layer of aggregate (to recommended specifications) to ensure proper drainage,
Install fall-rated pads under kid's play areas for safety (if required),
Turf comes in 15' wide rolls, it is installed by seaming & fastening with specialty pins (to be completed by an authorized dealer),
Infill sand is applied to the area & brushed in place to stand up the grass blades.
Turf products are generally only warrantied when installed by product dealers. But with that being said, we can work with clients to let them take care of the prep work & leave the installation through finishing stage to us. You can prep your yard by starting with step one and two, and we can take over from there. As with most products, site preparation is key to the longevity of your product. Taking extra time in the planning & prepping stage will make for the highest quality results- after that, you can sit back & enjoy your new lawn!
LOW MAINTENANCE, HIGH IMPACT GARDENING SOLUTIONS:
Maybe your deck & lawn are already low maintenance, but what about adding some flowers to the mix? If you love seeing colourful blooms but don't feel like babysitting your flowers all summer, here are a couple of tips to streamline your gardening. As with all great projects, planning is key! Take the following steps to study your yard and plan your space- you'll be so happy with the outcome.
Planning Stage:
First step is to study your yard; what areas get full-sun, what areas are shaded? Go to your local greenhouse armed with this information and ask for advice on plants that are suited to our climate & the specific sun/shade areas in your yard. Some plants will thrive in full sun, while others will sunburn, wilt & die; studying your yard is a great step in saving money, plant what will work in your yard & make a wise investment. Your local green house will be staffed with experts, use this resource and ask lots of questions; chances are that you will find someone who is passionate about plants and can help you make a viable plan for your yard. Here are a couple of links to a few local Central Alberta Greenhouses:
http://www.parklandgarden.ca/
http://reddeer.bluegrassnursery.com/
https://www.cagreenhouses.ca/
Annuals vs. Perennials & Planters vs. Flowerbeds:

Maybe you want to add a few planters to your space? Planters are a great choice to add an immediate pop of colour with annual plants. Annuals are flowers (and foliage) that you plant in the Spring & pull in the Fall, they are not hearty enough to withstand the Winter. Keep in mind that planters tend to require a bit more attention than some other gardening methods. Planters tend to dry out quicker than gardens & flower beds; no worries, 'self-watering' planters exist! Self-watering planters can help reduce your maintenance, but your planters will still require a certain amount of love. Maintenance includes, planting every Spring, dead heading flowers, adding fertilizer when needed & pulling plants in the Fall.
If planting every Spring & pulling every Fall is not in the cards for you, perennials may be more up your alley. Perennials are a great investment because you plant them & they come back every year. They are generally frost-hardy & don't require much watering over the Spring & Summer months (unless it is exceptionally hot & dry). You can plant a variety of perennials that flower at different times of the year, ensuring you have pops of colour from spring on (some even provide winter foliage that create interest and attract birds in our bleakest season). Perennial gardens tend to be a bit more casual, and less structured than a precisely planned garden full of annual bedding plants. Maintenance, as far as perennials go, is pretty minimal. If they really love where they are at, they can tend to spread- you may have to occasionally thin them out. As with any flower bed, you will have weeding to do. You may want to put down landscape fabric before you plant your perennials to prevent weed growth. You can also use mulch around your planted perennials to limit weeds and to reduce the amount of time you need to spend tending to your flower beds.
When you are getting your yard ready for winter, perennials can be trimmed back (if required) and they will be ready to go in the spring. In my opinion, the best thing about perennials is that one weekend of planting can offer years of enjoyment- you can keep them pruned or let them get established so they grow into a magnificent perennial garden
Mulch Options:
Mulch is a great option for adding definition to your flower beds & to keep plant roots cool. There are several options on the market that come with their own features & benefits.
Cedar mulch has a pleasant fragrance and can prove to be a very effective weed, cat & bug deterrent. Cedar mulch comes in many different colours, ranging from natural to dyed-black. The dyed mulch is very attractive but be aware that the colour will leach out over time & the chips will turn to a greyed-out cedar colour. All cedar mulch will eventually break down over time & have to be re-applied, so it would be classified as a 'low maintenance' mulch option. You can purchase cedar mulch through greenhouses, home improvement centres & landscaping centres. It can usually be purchased by the bag or by the truckload to suit your needs.
If you are looking for even less maintenance than cedar mulch, you can opt for decorative rock/gravel. Decorative rock & gravel comes in every colour under the rainbow, it does not break down over time and it stays looking great. The main downfall with gravel & decorative rock is the labour required to shovel it into your flowerbeds; it tends to be a bit of a labour of love, involving a shovel, wheelbarrow & strong back (it is heavy). Decorative rock can be purchased in the same places as cedar mulch- usually by the bag or truckload depending on your needs.
For a lighter weight, natural looking solution- synthetic/rubber mulch fits the bill. This product is the best of both worlds; looks like cedar, same texture and natural look, lightweight & it doesn't break down over time! Your investment is protected because unlike dyed cedar mulch, the colour will not leach out & fade. We can order in a specialty rubber mulch that is eco-friendly & made from recycled tires- it comes in blue, black, green, brown & red. Our mulch can be ordered in 20lb bags or a 2000lb 'Super Sac' if you have a large job.
Garden Maintenance:
As far as garden maintenance goes, you can have as little or as much as you like. Some people really enjoy playing in the dirt and planning their gardens, others, not so much! I outlined the general steps; planning, purchasing, planting & maintaining in the previous paragraphs. Fall clean-up will include pulling annuals, trimming back perennials (consult a greenhouse to find out if they like to be trimmed in Spring or Fall), and topping up mulch. Complete your Fall tidy and wait for the green to pop next Spring!
ENJOY YOUR EXTRA FREE TIME:

Lives are busy, summer is short; any steps we can take to simplify our chore list will help to maximize our leisure time with the added benefit of increasing our property value. The sense of satisfaction in knowing that you can head out West camping for an extended time and your yard won't be out of control when you return, is well worth the initial investment. So, put away that can of stain, park your lawnmower & hurry up and relax!
Krista Leonard B.A.I.D. Interior Designer
Related Articles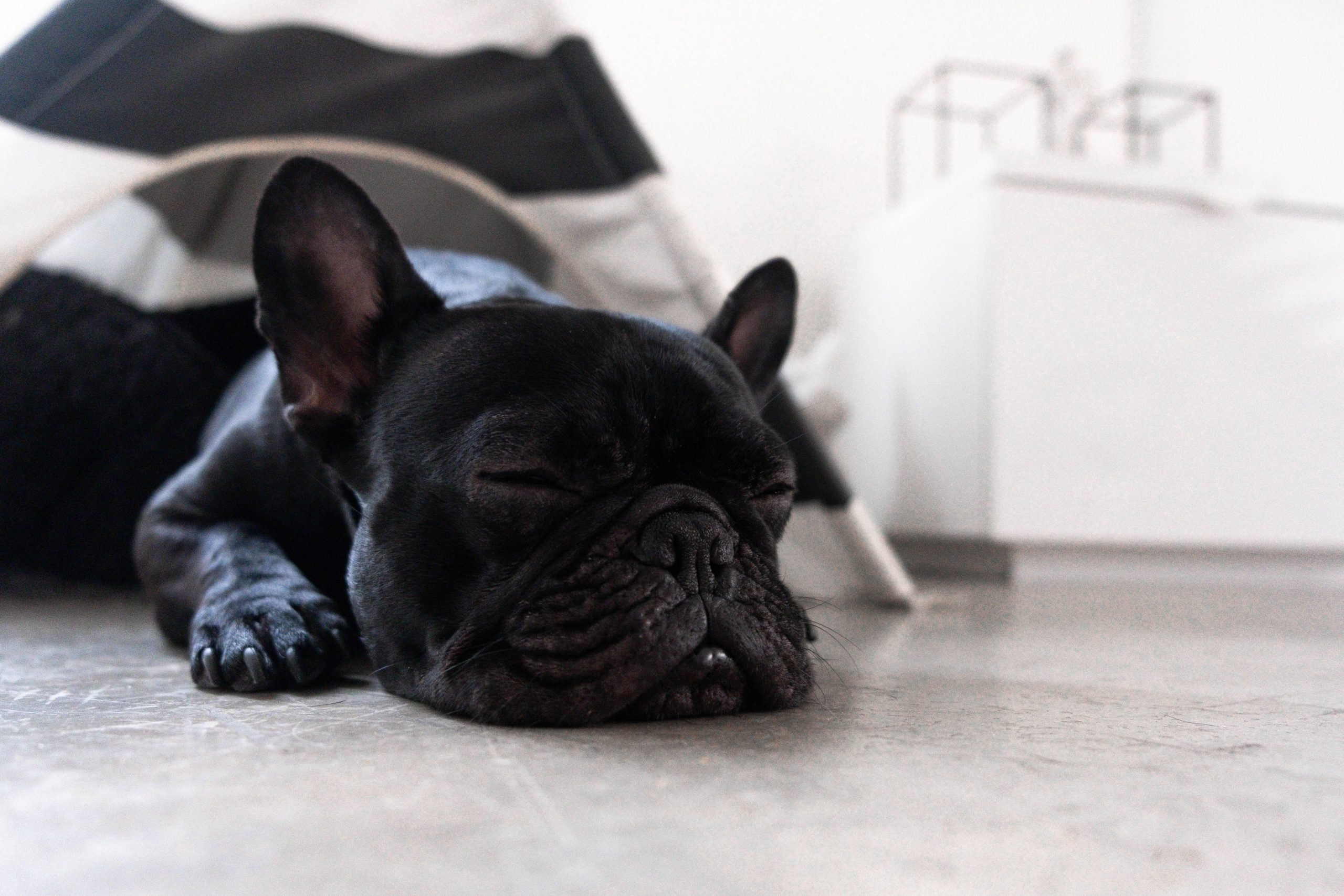 August 1, 2020
Pet Friendly Flooring Guide
They say that a house is not a home without a pet. Pets become beloved members of our family and we do all kinds of things for their happiness and well-being. Whether your pet is older, rambunctious, or an over-eager baby they can still cause damage around the home. They don't mean it, so we […]
July 1, 2020
Oh Canada: Our Top 5 Canadian Suppliers
It's July first, and that means that it's time to celebrate our beautiful country, the True North, Strong and Free. To commemorate Canada Day 2020, we are going to highlight some of our valued Canadian suppliers at the Rave Design Showroom. Vintage Prefinished Hardwood Flooring: Vintage is a Canadian hardwood manufacturing company that has been […]